All photos (c)2004 Valerie Duty
My adventures at the Republican National Convention in New York City

Since being elected as an alternate delegate to the Republican National Convention, lots of my friends and fellow Republicans have asked for me to share the photos I take while in New York with them. "Take lots of pictures" is the most common request. I've decided that the easiest way to share this wonderful experience is to try to upload photos and commentary during our off time while we are there onto this website page. I hope you will enjoy our adventures!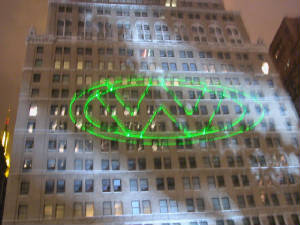 Scene as we stepped out of Madison Square Garden
NEWS FLASH!
Gotham invaded by GOP!
Borrowed from the pages of "Batman and Robin', an oval with a "W" much like the famous signal used by Gotham's Police Commissioner in the popular 1970s television show which used to summons Batman for help with a tough situation in the city, was prominently seen shining on a building with swaying spotlights by delegates leaving Madison Square Garden Tuesday evening. A reminder that the GOP believes that President Bush will "Save the day!"
Former Mayor Rudy Giuliani welcomes delegates to New York City
We began our official adventures in Gotham, AKA New York City on Sunday with a welcome event for the Texas delegation, 'Salute to Broadway' matinee performance of 42nd Street at the Ford Theater. We were greeted by none other than former New York City Mayor Rudy Giuliani. The show was outstanding...a wonderful classic! Giuliani actually shared with me later that he had flown into Waco Wednesday, August 25th and arrived at President Bush's ranch in Crawford at about 1:30 am and then flew out with President Bush on Air Force One the next morning to campaign with him.
A Texas Welcome at the New York Stock Exchange
Central Texans Gina, Darlene & Kamy Parker; Donald Citrano & Valerie Duty; Doc & Sandie Anderson
After the theater we were treated to a Texas GOP Party reception at the New York Stock Exchange. Governor Perry spoke and we were treated to different 'stations' of fine food from different precincts of the city, such as Little Italy, full of Italian morsels and Chinatown with Chinese food. We all were allowed to ring the bell and have our photo taken.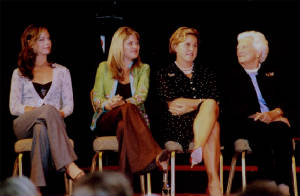 Twins Barbara & Jenna, Doro and Barbara Bush at "W Stands for Women" Event
Monday morning we had to be up early for the Texas breakfast at our hotel, the Hilton New York and then we were off to our first and only early General Session of the convention. I, as well as many others had to leave a bit early to attend a Bush-Cheney '04 "W" Stands for Women panel series which was by invitation only and very limited. The line up of speakers was incredible. They included Former First Lady Barbara Bush and her daughter Doro as well as Lynne Cheney and her daughter Liz. The Bush twins, Jenna and Barbara also graced the stage. Both Gina Parker and I were accepted on the panel concerning the economy and women in business and their relationship with President Bush's agenda.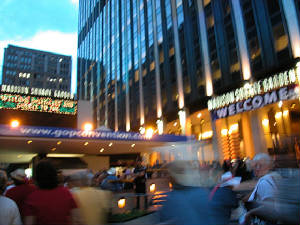 Long lines waiting to enter the first evening session at Madison Square Garden
The evening General Session included a fiery speech by Senator John McCain in which he called Michael Moore a "disingenuous film maker who would have us believe that Saddam's Iraq was an oasis of peace, when in fact it was a place of indescribable cruelty, torture chambers, mass graves and prisons that destroyed the lives of the small children held inside their walls." McCain later said that he had no idea that Moore was in the audience. The speech had actually been written a couple of weeks earlier.
I actually spotted him as he came into the Garden, surrounded by a large entourage with a great deal of the members of the press clambering to photograph and interview him as McCain spoke. Moore had press credentials from USA Today which he is writing a daily opinion piece for during the convention. Security blocked off the isles so no one other than those already in the section could enter. I passed up my business card to Moore, asking if he would speak to me about him showing his anti-Bush film Fahrenheit 9/11 in Crawford just weeks before. He looked down and I saw him chuckle. With the help of the Missouri delegation, we tried to hold up Bush signs high enough that the photographers could not get a good shot of him and thus make the first evening of the convention about him instead of the Republican agenda. You might remember when he decilind to show up in Crawford, he said that he didn't want to make it a "Bush vs. Moore" event...well it seemed to me that that was exactly why he showed up at the convention! Then came the line in Senator McCain's speech! The convention audience quickly spotted Moore and began chanting "four more years." Moore clapped in reaction to McCain's line, waved to the crowd and appeared to say "two more months" and then gestured the hand sign for 'looser.' McCain then said his line about Moore was so good he'd have to repeat it. Moore was escorted out soon after.
What a speech Rudy Giuliani delivered Monday evening! The talk of everyone the rest of the week was was if he will run for President in 2008!
MORE TO COME....



Everyone was talking about the Texas delegation!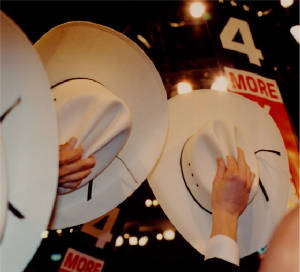 A great big Texas THANK YOU to SHEPLERS for giving us the cowboy hats!!
THANK YOU, THANK YOU, THANK YOU....
Many thanks to the Texas GOP staff for making everything go so smoothly! We had a wonderful time thanks to your organization and expert attention to detail.
What can I say to the many wonderful New York Police and Firemen and the United States Secret Service? Thank you just doesn't seem adequate. You kept us safe and we felt very secure during our stay in New York City! Thank you for your service. You are my heroes!
To the New York city officials and the convention staff a great big thank you for a week we will all never forget!
Without those cowboy hats donated by SHEPLERS, Texas delegates could not have made the impression that they did to America. It just wouldn't have been the same! Thank you!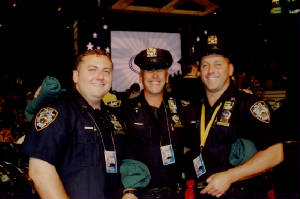 New York Police Officers on the final night of the convention
NEW YORK HEROES
I was very honored to meet so many True American Heroes in New York. They are Police and Firemen that not only kept everyone involved with the convention safe, but were the heroes on the front line who put their lives in danger on that fateful day in September of 2001. It has been the desire of so many people across the country to be able to go to New York and say "Thank You" for everything you have done. We were given that opportunity during the Republican National Convention. Being able to see where the World Trade Center had once stood, made it even more important to me, personally.
To the NYPD Officer who gave me the Detectives Endowment memory card. You honor me. I will keep it with me always as a remembrance of you and all the officers I met, along with those that gave their lives while serving. Thank you!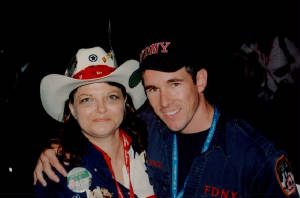 I was honored to meet this New York Fireman...A real HERO!
I was especially honored to meet the young Fireman pictured with me on the last day of the convention. This young man's first day on the job was on 9/11 in 2001. The NYFD is a long standing tradition in his family ... that is how his first day also became his Fathers last day on the job. He found himself standing on the steps of the World Trade Center as the second plane actually hit. His Father had retired, but because of the situation of the day, he decided to go back to duty. The duty of saving lives while risking their own.
These men are heroes.
One week till we leave for the Big Apple
August 18, 2004
We're just one week away from leaving for New York City and I'm really getting excited about being able to be in Madison Square Garden to hear President Bush's nomination acceptance speech! We could hear the roar of the engines of Marine One as they flew over our house carrying the President back to his ranch tonight for a week of rest, and according to Fox News, to work on the speech he will deliver at the convention.
Invitations for all sorts of events have been pouring into our mail box over the last few weeks. The City of New York and the Theater District have invited all delegates and alternates and their guests to matinee performances the Sunday before the convention begins. The Texas delegation will get to see 42nd Street. Then there is the Texas GOP welcome party that will be at the New York Stock Exchange, a Clint Black concert honoring Congressman Joe Barton and a dinner at Tavern on the Green.
I'm excited about actually meeting some of the wonderful people from across the US I've met on the internet because of this and my Western White House Gifts website (and from the No Michael Moore e-mail too). Thanks to Larry Otter and rest of the collectors who shared valuable button trading information with me. I'm taking special buttons I made just for trading at the convention.
Sign up here for our newsletter or to send us comments ...
Please note: Your e-mails are read by the webmaster and not by the president or anyone at the White House. Any e-mails with a threatening nature will be forwarded to the Secret Service for possible investigation.

History and information about President George W. Bush's hometown...Crawford, Texas.
All photos copyrighted by Valerie Duty Citrano, or for those not taken by her, the original photographer .
All rights are reserved.
Website not in any way affiliated with The White House or the Bush-Cheney '04 Campaign.
No taxpayer funds went to develop and maintain this website other than my own!