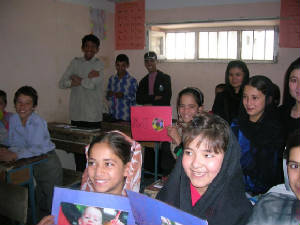 For the KIDS & TEENS:
Warm Socks, hats, gloves, scarves

Candy, gum & cookies
Small toys such as dolls, trucks, hot wheels, *beanie baby type items that can be tucked in a soldiers pocket to hand out
Please keep in mind that this is a predominately Muslim country that does not celebrate Christmas...but our troops do!
For Our TROOPS:
Chips, crackers, cookies, salsa (plastic bottles), bean or queso dip in cans.

Gum & candy

Especially hand written Christmas cards & notes of thanks for what they are doing for us!

Christmas cards for them to send back home
Christmas garland, tinsel and small items to decorate their barracks

(No personal care items...they have plenty)
We need CASH for Priority Mail Postage!
Special THANKS to
GRASSFIRE.ORG
for providing the funds to rent the building!
Sign up here for our newsletter or to send us comments ...
Please note: Your e-mails are read by the webmaster and not by the president or anyone at the White House. Any e-mails with a threatening nature will be forwarded to the Secret Service for possible investigation.

History and information about President George W. Bush's hometown...Crawford, Texas.
All photos copyrighted by Valerie Duty Citrano, or for those not taken by her, the original photographer .
All rights are reserved.
Website not in any way affiliated with The White House or the Bush-Cheney '04 Campaign.
No taxpayer funds went to develop and maintain this website other than my own!