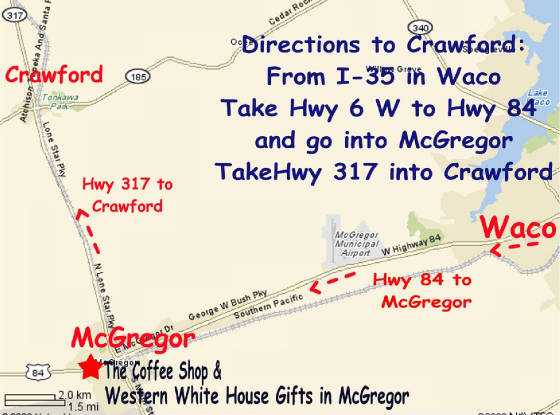 Crawford is located in Central Texas and is easily accessible from I-35.
From Interstate -35 just south of Waco, take the Hwy 6 exit west to Hwy 84. Take Hwy 84 to McGregor (George W Bush Parkway) At McGregor, take Hwy 317 to Crawford. It is about 18 miles west of Waco to the business district.

Crawford sits at the crossroads of State Hwy 317 and Farm Road 185 and is in western McLennan County, Texas.

The closest airport is the McGregor Executive Airport for those flying in with their own planes. Be sure to file your flight plan and watch the 'no-fly zone' so no F-16's come to chase you down! For those who must purchase seats, the Waco Regional Airport is for you.

The closest Hotel is in McGregor:

Weston Inn Suites & RV Park

Highway 84 West, McGregor (just west of Hwy 317 and less than a block from The Coffee Shop on our map)

(254) 840-0444

www.westoninnandsuites.com

RV hook-ups are available at Tonkawa Park. For more information, call the Crawford City Hall at (254) 486-2125. If they are full, try Quail Crossing RV Park, another nice RV Park that is close by

http://www.quailcrossingrvpark.com/

AmTrak has a depot and stops just up the road in McGregor for a fun alternative trip.
For those of you wishing to send mail to the ranch...

Due to security reasons, all mail sent to the ranch is forwarded to Washington, DC to go through extensive screening before reaching the White House mailroom. For that reason, your best bet is just to go ahead and send it to the White House. Here is that address:

The White House
1600 Pennsylvania Avenue NW
Washington, DC 20500


Additional info about sending gifts to the President and First Lady from the White House website:

Items sent to the White House often experience a significant delivery delay and can be irreparably harmed due to the security screening process. Therefore, please do not send items of personal importance, such as family photographs, because items may be unable to be returned.

We also request that gifts of a consumable nature, such as food, flowers, and other perishable items, not be sent to the White House due to the security screening process. While the President and Mrs. Bush and Vice President and Mrs. Cheney appreciate your thoughtfulness, they request that you look instead to your local community for opportunities to assist your neighbors in need.
Sign up here for our newsletter or to send us comments ...
Please note: Your e-mails are read by the webmaster and not by the president or anyone at the White House. Any e-mails with a threatening nature will be forwarded to the Secret Service for possible investigation.

History and information about President George W. Bush's hometown...Crawford, Texas.
All photos copyrighted by Valerie Duty Citrano, or for those not taken by her, the original photographer .
All rights are reserved.
Website not in any way affiliated with The White House or the Bush-Cheney '04 Campaign.
No taxpayer funds went to develop and maintain this website other than my own!