CAMP REALITY... Pro-Bush and Troops side of Prairie Chapel Road located directly across from Cindy Sheehan's original Camp Casey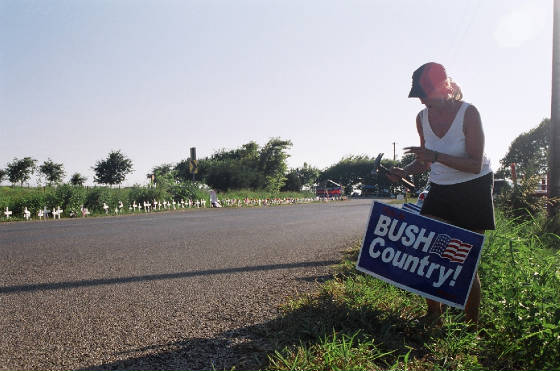 Dedicated Camp Reality volunteers lined Prairie Chapel Road with BUSH COUNTRY, IM4W and SUPPORT OUR TROOPS signs which were donated by grassfire.org. They began at Pro-Bush Camp Reality and wound their way for several miles up the road and across from the long row of crosses set up as a make shift memorial to fallen soldiers at Cindy Sheehan's Camp Casey I.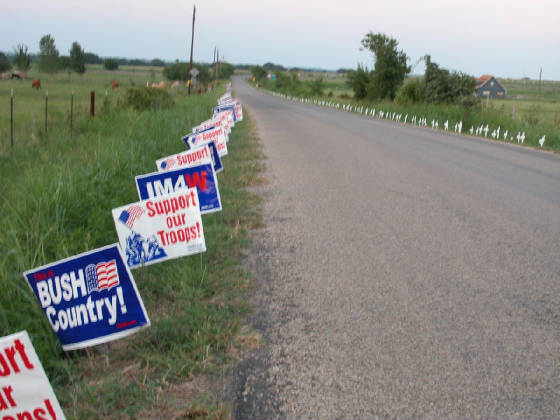 Pro-Bush & Troops signs line the road across from crosses set up by Sheehan's Camp Casey
Grassfire.org donated signs, our tent, tables, chairs, food and much, much more! THANKS GRASSFIRE!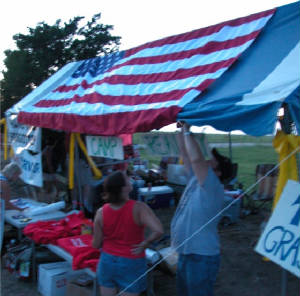 Raising our colors.... the American Flag at Camp Reality Friday August 26, 2005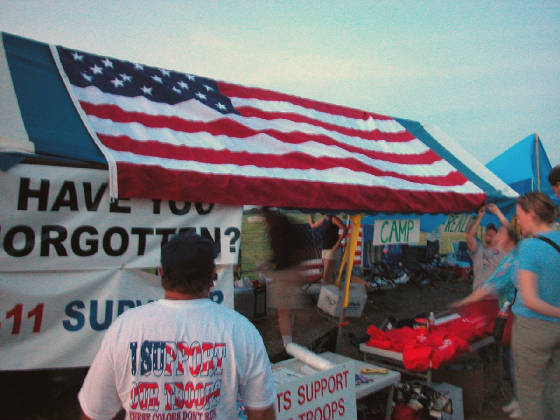 Our central tent at Camp Reality (August 26, 2005)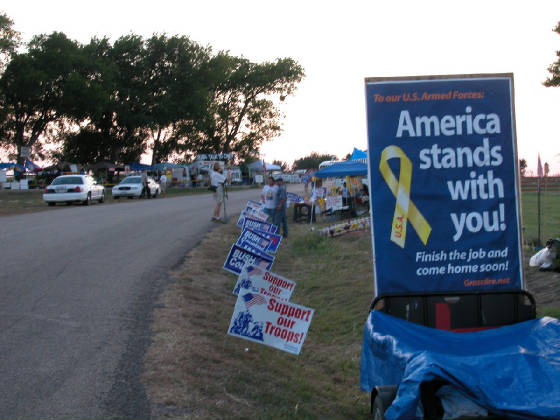 The large AMERICA STANDS WITH YOU sign once encouraged soldiers in Kuwait City on their way to Iraq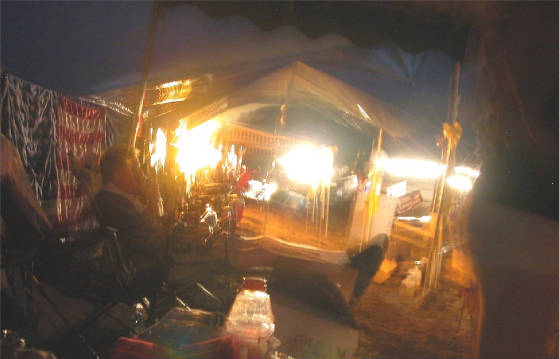 9-11 survivor , Earl Johnson rests on a quiet evening at Camp Reality (August 26, 2005)
Saturday August 27, 2005
On the front lines in Crawford, Texas
Pro-Bush, Pro-Military supporters came out by the thousands over the final weekend of Cindy Sheehan's Crawford siege.
Our red Camp Reality T-shirts said it best ...
You've made your point,
now it's time to MOVE ON!
The silent majority has spoken and loudly!
Pro-Bush, Pro-Military supporters line Prairie Chapel Road and engage with anti-war protesters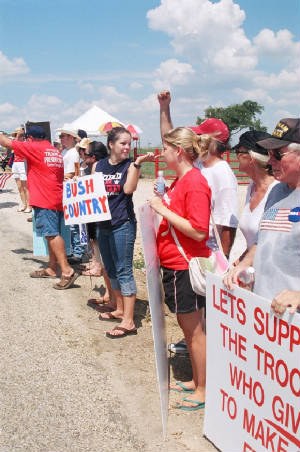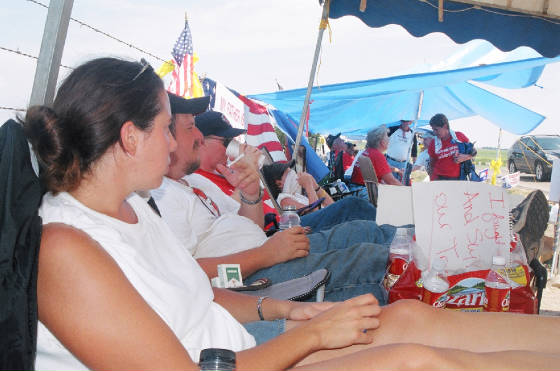 Taking a needed break in the shade from the 110 degree Texas heat (August 27, 2005)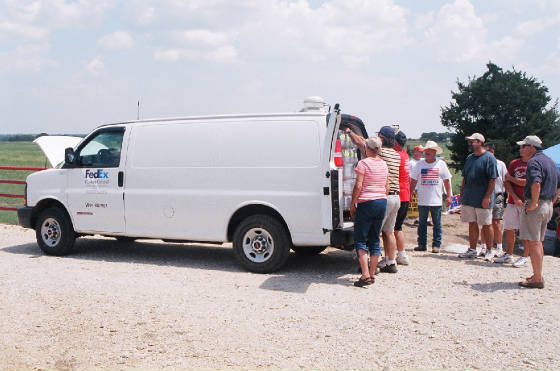 A donated pallet of water with special SUPPORT OUR TROOPS labels was delivered to our trench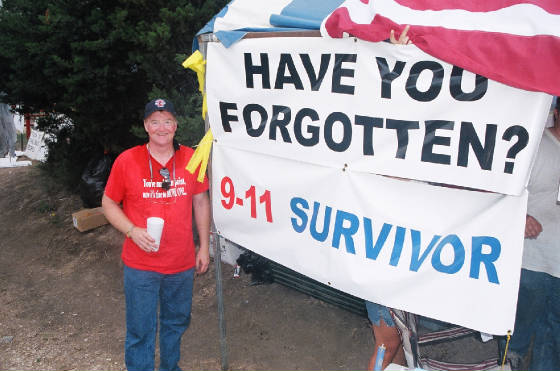 Earl Johnson was on the 51st floor of the first tower hit of the World Trade Center on 9-11 and escaped down the stairs before the tower fell. Many New York fire fighters passed him going up the stairwell to rescue those trapped inside. They never made it back down. Earl took the opportunity to share his heroic story with a Junior High class and the High School juniors and seniors while in Crawford. He and his wife now live in Washington state.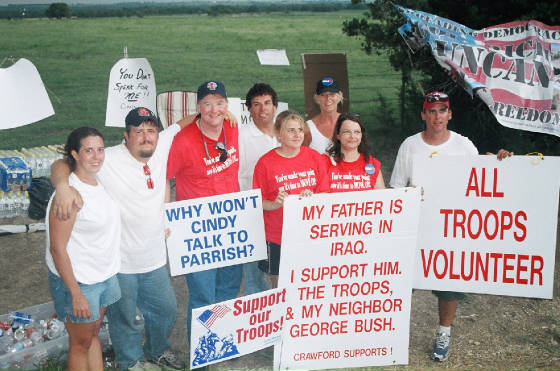 The original Camp Reality crew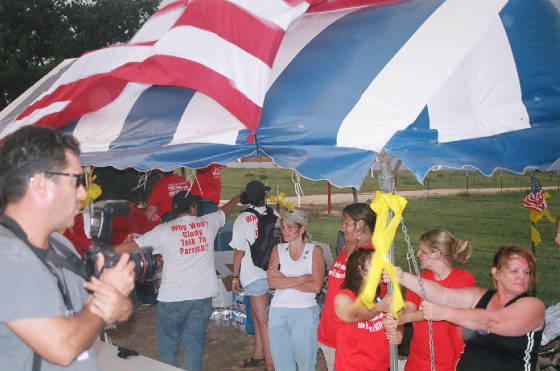 A strong wind storm came out of nowhere knocking down tents and made a mess of everything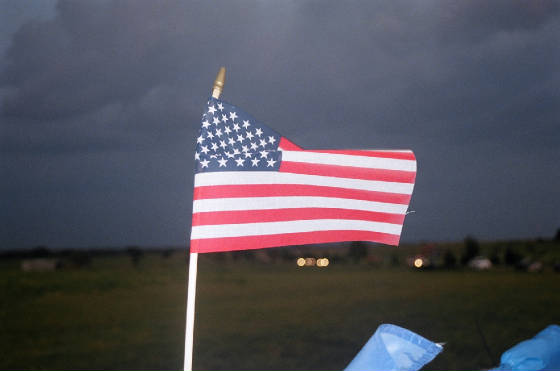 Even during a bad storm, Bush supporters still drove up to Camp Reality
Sunday August 28, 2005
Sign banter and flower ceremony
Sunday was still very busy with a new group of Bush supporters visiting Camp Reality. One of the mother's that lost her son in ithe war stayed with us again Sunday. There was heavy sign banter throughout the day with each side responding to the others messages on the other sides signs.
Al Sharpton and Martin Sheen visited Cindy's Camp Casey 2. Sharpton rolled his vehicle's window down and gave us the peace sign as he drove past Camp Reality. Sunday afternoon, Cindy followers attached roses to the white crosses in a ceremony that lasted well over a hour with each participant walking down Prairie Chapel Road individually.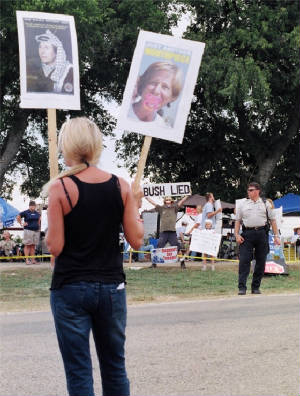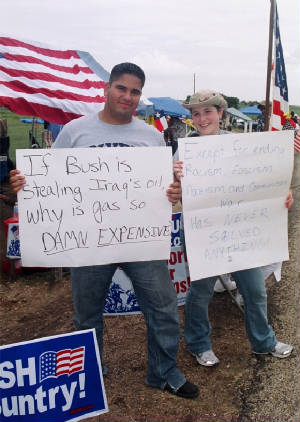 Crawford twins show their support for President Bush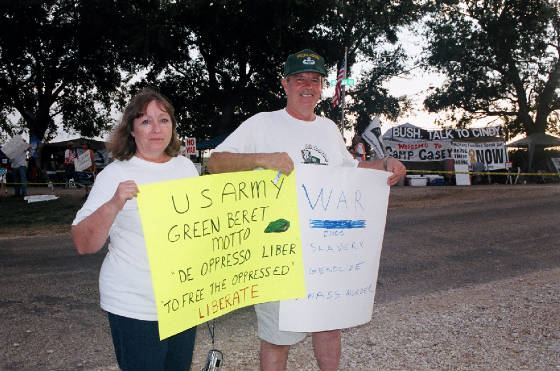 Former Green Beret shows his dislike for the anti-war protesters
Camp Casey l flower ceremony:
Camp Casey flower ceremony being directed by Ann Wright (August 28, 2005)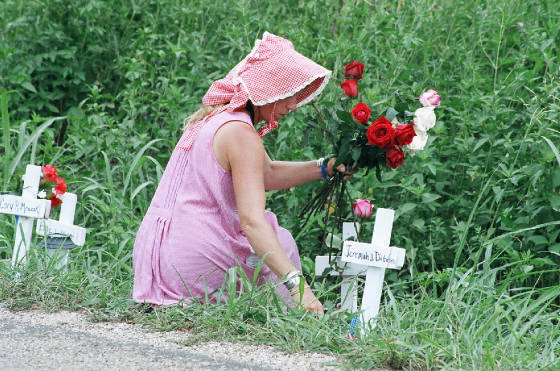 Each person attached flowers to crosses one at a time in a ceremony Sunday
Sheriff' deputy's stood guard for each Camp Casey participant in the flower ceremony
Ex-Marine Jeff Key
Camp Casey l wedding
There were two weddings held at Cindy's Camp Casey's on Sunday, one at each camp. Camp Reality members looked on as this wedding couple had their portrait taken in front of their BUSH, TALK TO CINDY banner.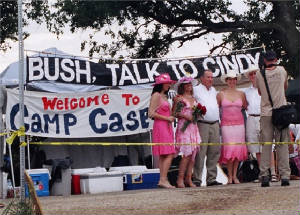 Wedding portrait at Camp Casey
August 31, 2005
Goodbye Cindy!
The final day of Cindy Sheehan's Crawford siege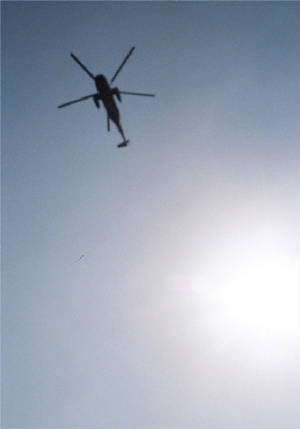 Marine One flies over Camp Reality on its way to pick up President Bush at his ranch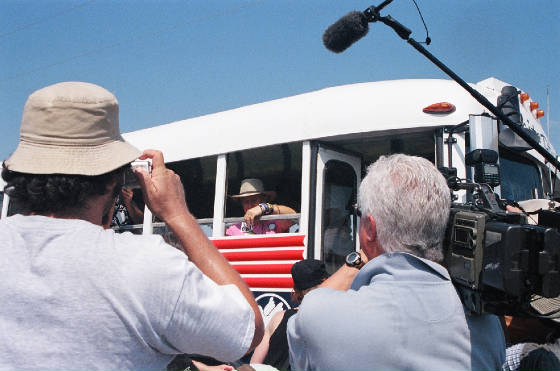 Cindy Sheehan places an AMERICA STANDS WITH CINDY sticker on her Impeach Bush bus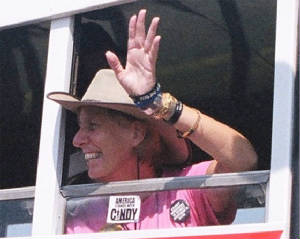 Cindy boarded the same bus she came to Crawford in and waved goodbye to the small crowd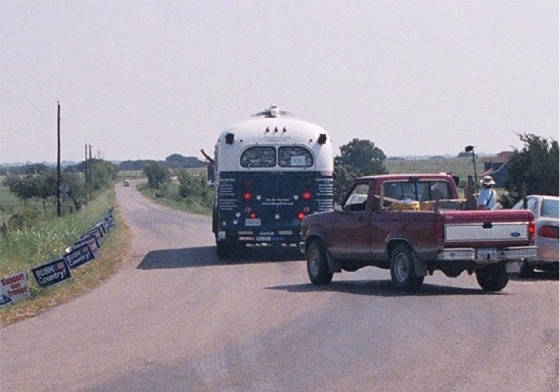 Finally leaving Crawford...and having to pass ALL those PRO-BUSH signs along the road!
Some of the Camp Reality participants on the final day...we were there to say GOODBYE CINDY!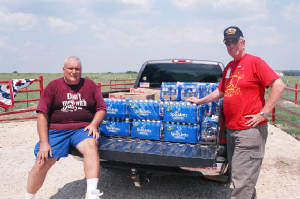 Camp Reality donates a truck load of water to the Red Cross for hurricane Katrina relief