Thursday, July 17, 2008
Howard Dean stumps for Obama in Crawford
Slap in the face for Bush and GOP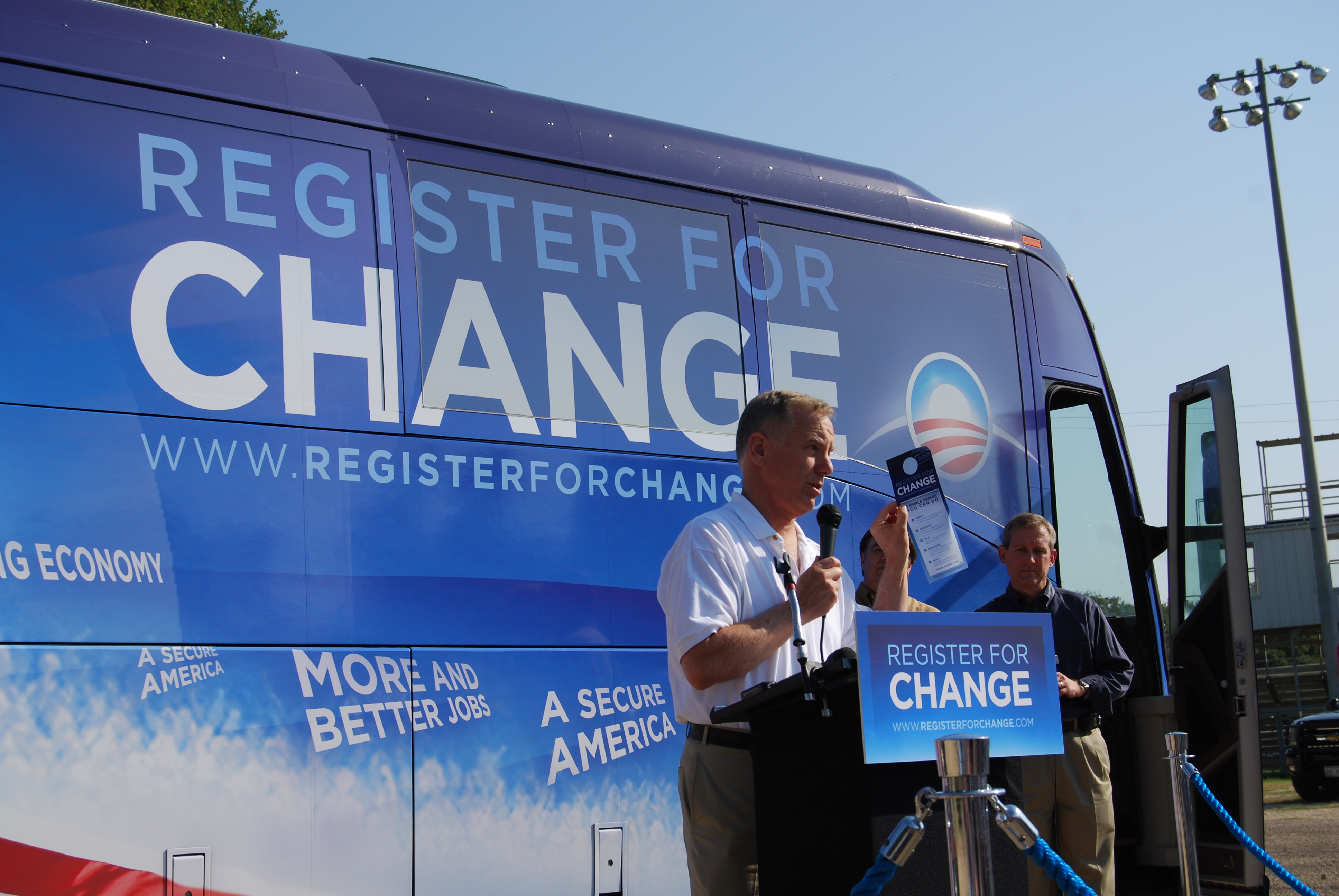 Former presidential candidate and chairman of the Democratic National Committee, Howard Dean began his cross country bus tour encouraging Democrats to register to vote and stumping for Obama in Crawford today.
Dean spoke to a crowd of about fifty people including one Crawford Democrat, Dean's staff and at least twenty reporters and media. Asked why he chose to begin his tour in Crawford Dean stated that it was because it was Bush's hometown and later stated in his speech "We're looking forward to turning that into a retirement home." I guess Dean forgot that Bush has termed out and that is exactly what his ranch will be come January... a much needed place of rest after eight tough years of serving our country.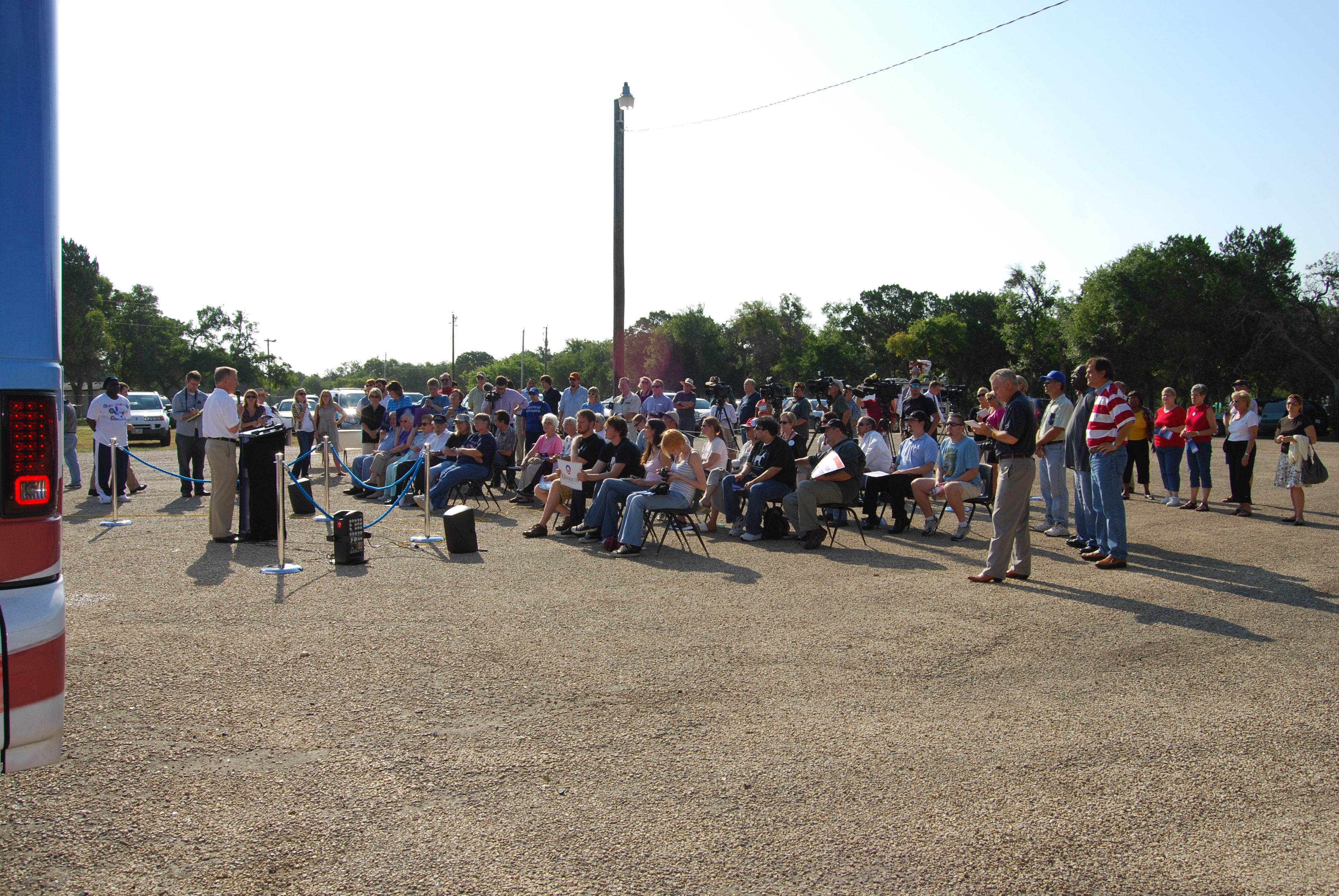 I was the only Republican I spotted in the crowd. Of course I went to cover the beginning of the bus tour for this web site, but I also went to antagonize Dean and remind him that he was in Republican country. I made sure that my "This is Bush Country, by George" T-shirt was the very first thing he saw when he stepped off his bus. The look on his face is something I will not soon forget. He dodged me, but I caught up with him as he met people in the crowd and asked him "Why Crawford?" and "Just what change will Obama make?" Didn't get a specific answer to the last question, but I really did not expect one.
Several Hillary supporters were anxious to hear if the former First Lady was going to be on the Democratic ticket, following him throughout the crowd reading proclamations and sternly asking questions.
Dean's speech lasted just shy of ten minutes and his visit, from his bus turning into the Crawford Community Center parking lot to it leaving, was just at 40 minutes total. Dean mentioned several concerns of the Democratic party including global warming, which seemed quite ironic considering the decked out custom bus in which he is traveling across the country, had only four people exit the doors including the driver.
Why choose to begin his tour? Simple. It's Bush's hometown and Dean and the Dems wanted to slap Bush and the GOP in the face. Did it work? Just look at the photo of the turnout... disappointing for them, I'm sure.
Tuesday, April 22, 2008
Laura Bush gives tour of Crawford ranch
Laura Bush made history today as the first sitting First Lady to co-host a national television show. She anchored the third hour of NBC's morning news program The Today Show. Bush daughters Jenna and Barbara were guests on the show. The first lady also revealed details of her own wedding proposal (video on the wedding page).
Laura recently gave co-host Ann Curry a tour of their Crawford ranch which aired during the program:
Laura Bush's debut as a guest host:
Jenna and Barbara speak about being twins and about Barbara being Jenna's maid of honor in her upcoming wedding:
Friday, April 11, 2008
Why are the F-16's flying overhead so much today?
Yes, President Bush is in town. He flew in on Air Force One yesterday into the airport in Waco. But I don't think that's the only reason for all the loud air traffic.
Word is that there is another Republican National Committee fundraiser happening tonight at Stan and Kathy's ranch and the Bush family will be there in full force. Along with George W. and Laura, former President George H W and wife Barbara as well as Jeb Bush, former Governor of Florida, and his wife Columbia.
The Bush wives are the headliners this time with the two president's and their brother feeling the 'heat' from being roasted. We have heard the jabs that Laura has made about her husband before and Barbara has historicly put flames under her husband's (and son George W's) feet, but this may be the first time we have heard three Bush women bash their husbands at once. Jeb will feel the heat from his wife too.
The RNC is bring in a reported 3.5 million dollars from the event here which will feature BBQ along with the roast. The money is marked to go into the RNC's presidential campaign fund for Senator John McCain.
McCain is in Dallas this morning for a brunch fundraiser in Las Colinas. Tickets start at $1000.
The RNC has over $31 million cash on hand as of March 31.
Thursday, April 10, 2008
Is it "Audie-ose Crawford" from the Bush's?
The rumors have been flying for the last few years, but First Lady Laura Bush made it official. Speaking at a school in Dallas today, she said she and her husband plan to make their home in Dallas when Bush leaves office next year. She told the children she was happy to be in Dallas and that they had lived there 14 years ago.
The Bush's have purchased property in Highland Park and plan to build a home. They lived there while Bush was managing partner of the Texas Rangers baseball team. They have many friends in Dallas where Laura frequents for shopping, doctor appointments and socials.
Laura attended SMU where she is a Regent and the Bush Library is to be built.
Tuesday, April 8, 2008
Stan Hickey wins Constable race
100 people voted early in the Constable race with Scott Geiger leading 60 votes to Crawford resident Stan Hickey's 40 votes.
Geiger did not retain that lead very long. The final vote was:
Stan Hickey 430 votes 53.68%
Scott Geiger 371 votes 46.32%
A very close race. There is no Democrat running for Precinct 5 Constable in the November election. Hickey takes office January 2, 2009.
Friday, December 29, 2006
Crawford under tornado WARNING
President and First Lady reported to have taken shelter from storm
This Friday afternoon, tornado cells have been popping up all over the Central Texas area including circular tornadic rotation passing over President Bush's Prairie Chapel Ranch just outside of Crawford. Just moments before, his same tornatic storm ripped through the city of Oglesby damaging homes and property on both sides of US Highway 84 just west of McGregor. KXXV News has reported that the Bush's took cover before the tornado funnels passed over their ranch. Additional storms are expected throughout the evening.
Photos of the funnel clouds (taken by Todd Westerfeld) are posted on
www.kxxv.com
Update 4:15 pm... According to Fox News, The Bush's and their two Scottish Terriers were driven to a storm shelter, but sat outside in an armored limousine without actually going in.
Tuesday, September 19, 2006 8:57 pm
The City of Crawford has been evacuated this evening due to a 23 car Burlington-Northern train derailment in the downtown area. Hazmat and fire crews from surrounding areas are on the scene to contain unidentified chemical spills. Evacuees are gathering at the Community Center and Elementary School. No one is being allowed into the center of town or within a one mile radius of the spill.
10:02pm
Bob Sutton, director of the Crawford Emergency Management office, has just announced that the evacuation has been lifted and residents may return to their homes.
The corrosive liquid Ethanolamine was one of the harmful liquids involved in the spill. McLennan County Sheriff deputies and Texas Department of Public Safety officers assisted Crawford Police Chief Donnie Tidmore in going door to door asking residents to evacuate and assisted in containing the town. Fire Departments from McGregor, Waco and Moody also assisted with the cleanup.
An 18 wheel grain truck was involved in the accident. Sutton said that no one was injured in the accident. More details are to be announced after further investigation.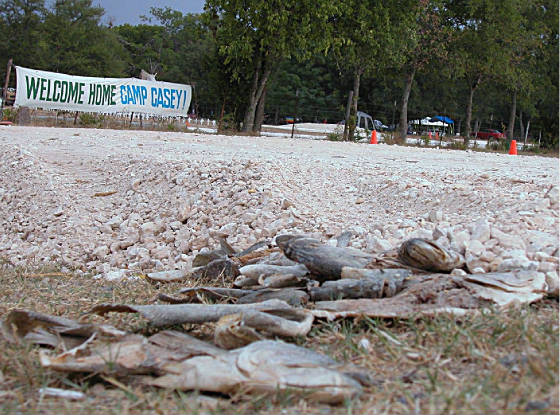 Were these dead fish which were found at the gate to Cindy Sheehan's five acre spread Sunday morning a Crawford welcome gift?
Click the fish photo for the movie short GET ALONG HOME (to Berkeley, CA), CINDY... It's a must see! My compliments to the film maker!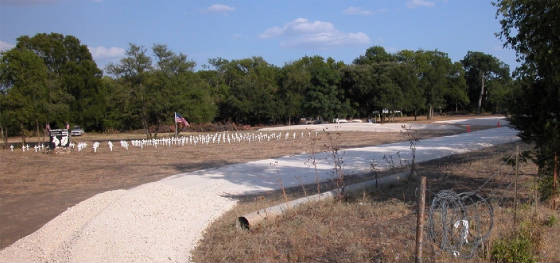 Thursday August 4, 2006 (updated Sun, Aug 6)
There goes the neighborhood...
The five acres of land that was purchased on behalf of war protester Cindy Sheehan is now being riddled with leftist propaganda and ten port-o-potties. Surrounding land owners have denied Sheehan access to electrical lines and the city of Crawford work crew was forced to stop laying water lines to the property since the proper permits were not obtained.
Though the protesters purchased five acres, they have already filled the property with displays of their descent that there is not adequate parking. It is dangerous and against the law to park along the side of the highway.
There are so many curious people pulling into their drive way and then backing out onto the highway that residents are afraid that a major accident will surely happen.
BUSH SUPPORTERS ARE ASKED TO PLEASE NOT COME TO CRAWFORD TO PROTEST SHEEHAN AND HER GROUP!
These people feed off the energy of counter protesters and believe that Bushies help center the media back on them.
Remember Sheehan sitting all alone at a table in a circus tent last Thanksgiving waiting for someone to ask her to sign her book of rhetoric? I, for one, want to see more photos of her all alone this August. Just Cindy and the media.
Sheehan is only looking for press coverage... lets be smart and not give it to her!
Many Crawford residents just want to try to have a normal summer and are looking forward the beginning of a new school year and preparing for the upcoming dove season. We will try to update this site frequently so that you will have an idea of what is going on in Crawford without having to coming here.
Upon Sheehan's arrival to her new location Sunday, Reuters reports:
Talking to reporters, Sheehan defended the purchase of a 5-acre (2 hectare) plot of land for use as a protest location. The land was purchased by her supporters through a third party to keep secret her connection to it.
"I just had a third party do it because I know that they wouldn't have sold property to me," Sheehan said.
The previous owner of the property, Celia Ramsey, told ABC News, "We were duped, we were deceived, we had no idea" that Sheehan was behind the purchase.
Crawford residents angry at her presence "just need to relax a little bit and learn to live with us," said Sheehan.
After 9-11 American's learned that the best way for individuals to combat a terrorist is to try to live our lives as normally as possible. Lets do that now!
A note to Cindy & her followers from her Crawford neighbors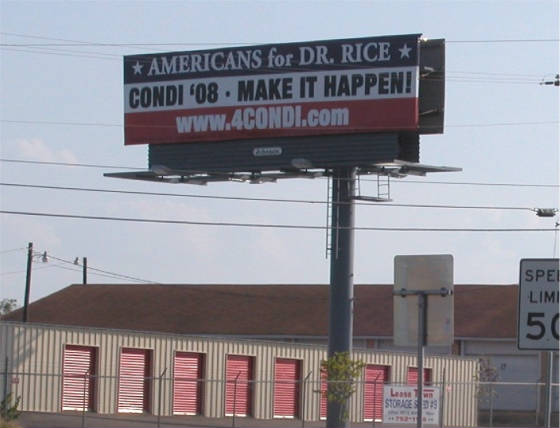 "DRAFT CONDI 2008" GROUP TO DEDICATE BILLBOARD NEAR CRAWFORD
This Saturday, August 5, 2006, near Crawford, a group of Texans, part of the grassroots 527 political organization, "Americans for Dr. Rice" (www.4Condi.com) and called the "Condistas" by First Lady Laura Bush will dedicate a billboard to promote their goal of making "President Condoleezza Rice" a reality in 2008.
On the way to Crawford, on Highway 84, you cannot miss the enormous billboard in McGregor, Texas.
For the President, Dr. Rice, the press corps, and all Texas motorists who are en route to Crawford, the billboard will be a clear demonstration of the wide-spread support across America for "Condi 2008."

"We know Dr. Rice travels to the Western White House and usually visits during the month of August. The Condistas in Texas want her to know how much we support her, now more than ever. We are delighted to be able to deliver this Texas size message to Condi." said Wendy Rogers of Austin. With typical Texan modesty, Rogers continued, "This is only the first of many more to come."
Rogers, who is the Texas Chairperson of Americans for Dr. Rice, along with other Rice supporters across the nation, came up with the idea of a billboard and the funds to make it a reality.
Jessie Jane Duff, the National Chairperson said, "Dr. Condoleezza Rice is truly an amazing leader. Across this nation, countless Americans want to see her run for president in 2008. The Condistas constantly demonstrate their dedication to make this happen; and, what better place than right here in Crawford Texas"
The dedication and press conference will commence Saturday at 10:30 a.m. Rogers will be present, along with the National Chairperson of "Americans for Dr. Rice," Jessie Jane Duff, USMC (ret) of Washington, D.C.
There will be a gathering after the press conference at The Coffee Shop in McGregor.
Thursday, July 27, 2006
Cindy Sheehan used slain son's insurance money to purchase property in Crawford to continue stalking President Bush
By Valerie Duty
In an e-mail sent to her supporters today, Sheehan says that she has used some of the insurance money she received from the death of her son Casey to purchase five acres of land around the corner from the Peace House. This location is at least 10 miles away from the President's Prairie Chapel Ranch and approximately one mile outside Crawford off Hwy 317 towards Valley Mills, Texas. The acreage is about half prairie land and half wooded.
According to an article in on the Fort Worth Star Telegram website, "Sheehan and Mark Mattlage, owner of the 1-acre property where protesters have been allowed to gather, have had a falling out over scheduling and increased costs for liability insurance."
The five acre tract was purchased for $52,500 on behalf of Cindy Sheehan by a third party, Gerry Fonseca, a supporter and real estate agent from of Eagle Rock, Mo. Fonseca was on the property today clearing brush to get ready for Sheehan's August arrival. "If Cindy came to town, I don't think anybody would have sold her property," said Fonseca.
Sheehan, of Berkeley, California, and her followers had planed to protest in Crawford again August 16 through September 2, but have now decided to begin their vigil on August 12 after the media began announcing the President's August schedule last week.
Sheehan states "we hope to enjoy a cordial relationship with everyone" now that she will be a resident of Crawford, just like "George." I seriously doubt that anyone in Crawford will be inviting Cindy over for a backyard bar-b-que any time soon.
We at Crawford-Texas.org had planned a counter to Sheehan's protest, but it was called off due to the fact that Sheehan will not be in Crawford at the same time as our neighbor, President Bush.
Here is Sheehan's e-mail in it's entirety:
Camp Casey III: The Struggle Continues

By Cindy Sheehan
Thursday 27 July 2006
Camp Casey is moving!
The Camp Casey Peace Movement, and the peace movement in general, will be eternally grateful to the Mattlage family for allowing us to use their land near George's Crawford, Texas, ranch. They were extremely generous and courageous in allowing us to use their property when we were bursting at the seams at Camp Casey I this past August and we were also being threatened by shotgun blasts and drunken drivers plowing through our memorial. We also are grateful for being allowed to use the site for our two subsequent Camp Caseys, at Thanksgiving and at Easter, especially since the McClennan County Supervisors passed the ordinances suppressing our 1st Amendment rights to camp at Camp Casey I. We owe the Mattlage family a debt of gratitude that I don't know if we will ever be able to repay! I know that their comfort, as well as ours, will be when our troops come home from the illegal and immoral occupation of Iraq.
However, we have now grown out of Camp Casey II and we needed to move on to bigger property. During Camp Casey Easter, we housed a few hundred people that the site could barely contain. With our commitment to being in Crawford every time that George goes on vacation (even though he seems to be skipping out on us a lot lately) we decided to buy property in Crawford to use until George's resignation or impeachment - which we all hope is soon, for the sake of the world.
Our new property is in town and literally right around the corner from the Peace House. It is a beautiful, wooded five acres of land that will be ideal for our expanding peace population and for hosting our growing family. We are looking forward to being good neighbors in Crawford whenever we are there and we are looking forward to having good neighbors, also.
I think the people of Crawford are beginning to understand that we come in peace and love and that we just have an issue with just one resident: George Bush. Even though we don't agree politically with many of our neighbors, we hope to enjoy a cordial relationship with everyone.
I never understood how George Bush could pick such a place as Crawford to have his home. When I first arrived and set up camp there last August 6th, I had even bigger misgivings ... but now after spending an entire year there in every season, I totally understand. I even get upset now when people put Crawford down in any way - but these are people who have never been there.
Crawford is a beautiful place, and Camp Casey has made it even lovelier. I feel so at home there. When I am able to return, I feel a renewal and resurgence of energy and hope. The sunrises and sunsets and star-lit nights are breathtaking, and there is nothing like a cool (if rare) Crawford evening breeze to dry off the sweat and sweeten the soul.
Dwight David Eisenhower said that when the people of the world finally want peace, the governments had better get out of their way. Well, we want peace, BushCo, so get out of our way. Come to Camp Casey and show George and the other governments of the world that you want peace and when you say you want peace, you mean it! It is so imperative today when violence is being born out of violence and the world is crumbling around us. With almost 2600 of our brave soldiers tragically dead for George's lies and greed and countless numbers of Iraqis dead because they had the audacity to live on top of Exxon's oil, how can we not gather together in peace and commitment to ending this travesty in Iraq and call for those in the Bush Regime who are truly responsible to be punished.
We have been advertising that Camp Casey was going to begin on the 16th of August, so George is now going to his ranch in Crawford until the 14th. Since he didn't visit his ranch at Easter for the first time since he has been president, we are beginning to believe that he is frightened of us. It can't be because we are a physical threat to him: We have proven to be peaceful and non-violent - so it must be that he is afraid of the truth and too cowardly to, again, face grieving families and thousands of others who adamantly oppose his murderous policies. Consequently, we will begin Camp Casey on August 12th so we can at least share part of the summer with Georgie. We will still run Camp Casey until September 2nd. There is so much to do.
Here's to Crawford. Here's to Camp Casey - but most of all, here's to peace and accountability.
October 24, 2005
VANITY FAIR magazine blasts Bush and Crawford
The November issue of Vanity Fair magazine includes an article written by Evgenia Peretz titled High Noon in Crawford which blasts President Bush and Crawford in a highly flammatory manor. There has been a lot of incorrect reporting on Crawford, especially while Cindy Sheehan was in town, but this by far has to be the worse.
Since I personally organized the Pro-Bush & Troops side of Prairie Chapel Road opposite Cindy Sheehan's Camp Casey, I wish to set the record straight on what Peretz wrote about us:
"On the anti-Sheehan side, made up of locals and people from the Sacramento-based group Move America Forward, the rage is equally palpable. Among the BUSH COUNTRY and SUPPORT THE TROOPS signs are those that read, HOW TO WRECK YOUR FAMILY IN 30 DAYS BY "BITCH IN THE DITCH" CINDY SHEEHAN. A group of teenage boys in the street yells, "Cindy, the fucking whore, get out!" Some of the pro-war group have chosen a spot across the road from the original site of Sheehan's protest, which is still being maintained by a group of her supporters. As state troopers prevent them from crossing the street into each other's camp, the two groups hurl slogans across the road."
Point 1: Camp Reality had nothing at all to do with the group Move America Forward. We were a group of grassroot individuals that love our country, our President and our troops and were willing to sit in the August heat to show our support for them.
Point 2: While there were SUPPORT OUR TROOPS and BUSH COUNTRY signs on our side, there was no sign as you mentioned against Cindy Sheehan. I personally checked signs and any people that came to our side with foul language on one was asked to take it back to their car or leave. We were there to support Bush and our troops, not call Cindy Sheehan names. The sign you saw may have been in town, but not on Prairie Chapel Road. Too bad you did not choose to report signs on our side like ALL TROOPS VOLUNTEER and CINDY, YOUR SON IS A HERO.
Point 3: There was plenty of yelling now and again across the road, but I did not hear vulgar language. That was one of our sides rules as well as the Sheriff's deputies that stood in between us in 'no mans land.' There was an absolute no tolerance policy. Anyone yelling foul language as you purport, would have gone straight to jail.
By the way, you reversed the numbers of those attending rallys on that final Saturday. Guess you didn't want to leave Cindy's plush circus tent with all the trimmings to take a count for yourself.
I could counter most parts found in your article. Pure fiction. Peretz, you should stick to writing about shoe designers and surfing. If I had a copy of your magazine, I would add it to the bottom of my bird cage along with the defunct Iconoclast... but it's not even worthy of that!
Definitely not worth purchasing a copy, but if you are interested in seeing how the far left media bias can twist and spin a story to present their ideas, you can read the story online at: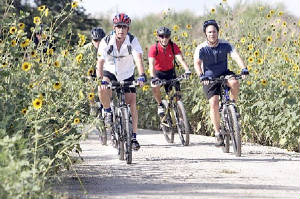 Bush, in white shirt, bikes with journalists on his Prairie Chapel Ranch (WH-Draper 8-13-05)
The Tour de Ranch is on!
Lance Armstrong due to visit Bush ranch
August 14, 2005
Lance Armstrong, seven-time Tour de France winner and cancer survivor, will be visiting President Bush this week at his Prairie Chapel Ranch. Armstrong is taking a little time off relaxing after winning his seventh Tour de France and will begin promoting his Lance Armstrong Foundation (
www.Livestrong.org
) and spreading the word to lawmakers about the issues that are important to people living with cancer and their families.
President Bush recently reappointed Lance Armstrong for his second three year term to the President's Cancer Panel. This three person panel monitors the development and execution of the activities of the National Cancer Program and reports directly to the President. As a member of the PCP, Lance works hard to raise awareness of cancer survivorship issues.
Armstrong and the President plan to do a little mountain biking while at the ranch. Armstrong, while being interviewed on Sunday's ABC This Week said he enjoys riding bikes with President Bush, saying "Once he gets on that bike, he becomes quite a competitor."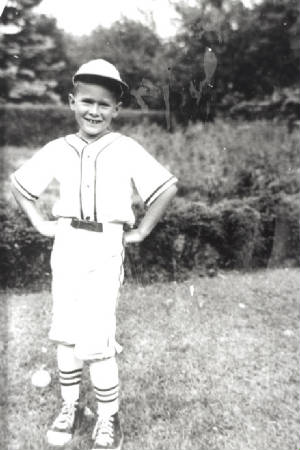 A young President Bush's Little League photo
President Bush supports Little League
President Bush to throw out the first pitch at the Little League Baseball Southwestern Regional Championship game in Waco Texas Saturday, August 13, 2005 at 8pm Central. George W. Bush was a catcher on the Midland Cubs and is the first president to have played Little League baseball. He was enshrined into the Little League Hall of Excellence in 2001.
August 2, 2005
President Bush begins his 50th visit to Crawford
Air Force One landed at Texas State Technical Institute Airport in Waco just before 6 PM this evening bringing President Bush back to Central Texas for the 50th time since taking the oath of office in 2001.
Accompanying him on his trip to his Texas home was his Scottish Terrier, Barney. The Bush's new puppy, Miss Beazley, was not spotted leaving the plane.
Before leaving the White House today, the President signed the CAFTA Implementation Act (Central American Free Trade Agreement) and spoke to the space shuttle Discovery crew from the Roosevelt Room by phone saying, "...I wish you Godspeed in your mission. I know you've got very important work to do ahead of you. We look forward to seeing the successful completion of this mission. And, obviously, as you prepare to come back, a lot of Americans will be praying for a safe return."
Discovery's Commander Collins ended their conversation by commenting to President Bush, "We did fly over Texas today and had a good look at it. It was beautiful."
President Bush travels to the Gaylord Texan Hotel in Grapevine on Wednesday to speak to the American Legislative Exchange Council. On Thursday, he hosts Colombian President Alvaro Uribe at his Prairie Chapel Ranch outside Crawford. On a day trip to New Mexico next week he will sign an energy bill and a transportation bill on a trip to Illinois. In all, there are plans for ten events in seven different states during his working vacation.
Roads leading to Tonkawa Park are blocked by city crews
July 27, 2005
Tonkawa Park Closed
City crews were forced to close Tonkawa Park this week due to extremely low water levels at the Falls. This popular summer swimming spot is now merely stagnant water that may be unhealthy for humans and too shallow for swimming.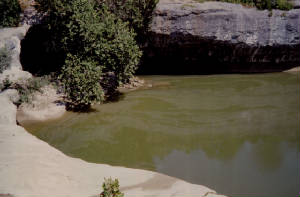 Stagnant water now stands where the Falls once flowed
City officials stated that this happens every few years when there is not enough rain and they chose to close the park this year in the interest of public safety. The water is not deep enough to jump into safely from the cliffs.
As a side note, it would probably be wise to be cautious around any rank smelling standing water such as at the Falls since it can become a breeding ground for mosquitoes that might possibly carry West Nile virus.
Infected mosquitoes have been found in two areas in McLennan County. One sample of mosquitoes in Elm Mott and two in Woodway were found to have the nervous system disease, said David Litke, health services supervisor for the Waco-McLennan County Public Health District. Officials also found a dead blue jay near Woodway that tested positive for the disease earlier in the month.
Although many people who become infected show no symptoms and never realize they have the virus, it can cause flu-like symptoms or even more serious conditions. In rare cases such as the Crawford resident in 2002, it can be fatal.
The main thing to remember is to take precautions to help protect against the virus. Officials suggest wearing an insect repellent with the chemical DEET and to wear long sleeves and pants while outdoors. Mosquitoes are most active in the early evening and early morning.
"With our climate and location, (mosquitoes) are here year-round," Litke said. "They're just more active in the summer."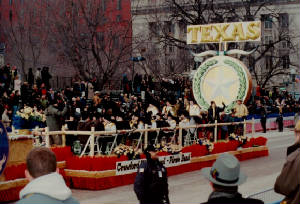 January 21, 2005
Washington, DC
Crawford High School Band performs in Inaugural Parade
The Crawford Pirate Band performed in President Bush's Inaugural Parade on a float constructed specifically to carry them on the parade route.
President Bush, his wife Laura and their daughters Jenna and Barbara waved and gestured as the band passed by their viewing box in front of the White House.
(For additional Inaugural photos please visit our Inaugural page.)
Jan 1, 2005
Crawford High School Band again chosen to perform in President Bush's Inaugural parade
The Crawford High School Band will actually march in President Bush's January 20th inaugural parade. Four years ago, when Bush was elected for his first term as president, the Crawford band bundled up in warm clothing and blankets on a street corner along the parade route and played as loud as they could to drown out protesters yelling vile words against their newly sworn in neighbor.
In 2005, the 55th Presidential Inaugural Committee has chosen them as the only Texas high school band performing in the parade. Band members will perform on top of float that will travel the 1.7 mile parade route.
Dec 18, 2004
Crawford Pirate Football Team
CLASS 2A....Division II
2004 STATE CHAMPIONS!!!!!
Crawford 28 - Troup 14
The Crawford Pirate football team lead by Coach Robert Murphy have completed their sixteenth win tonight, taking home the coveted State Championship title with a perfect record. Crawford handily beat the Troup Tigers (14-2) with a final score of 28 to 14.
The Crawford Priate's PERFECT 16-0 Record in 2004:
Franklin 48-6
Italy 25-20
Bartlett 61-0
Tolar 34-0
Maypearl 18-0
Moody 42-0
Clifton 37-7
Troy 43-12
McGregor 42-0
Bruceville-Eddy 48-0
Grandview (Bi-district) 63-6
Cisco (Area) 27-24
Cooper (Regional) 49-12
Celina (Quarterfinals) 49-26
Canadian (Semifinals) 24-12
Troup (Finals) 28-14
PERFECT!
CONGRATULATIONS PIRATES!!
Nov. 3, 2004
BUSH WINS!!! BUSH WINS!!! BUSH WINS!!!
Thanks America for voting for our friend & neighbor and making history by electing him with the largest popular vote ever in American history!
To Dubya: Congratulations! We'll be glad to have you back home in 4 more years...meanwhile, we support you and are praying for you while you are in DC!
John Kerry's hometown newspaper endorses Bush
October 4, 2004
The following is the endorsement of President George W. Bush by the Lowell Sun in Lowell, Massachusetts...John Kerry's hometown. Too bad the national media did not report this, but chose to promote the Lone Star Iconoclast's endorsement instead. By the way, the Sun is actually published in Lowell and is a much larger newspaper.
Endorsement: George W. Bush for president

Sunday, October 03, 2004 - It's about national security.
That's the key issue on the minds of Americans planning to vote in the Nov. 2 presidential election.
They must decide whether Republican President George W. Bush or Sen. John F. Kerry, a Democrat, can provide the leadership to safeguard America from foreign terrorism.
Americans aren't fools. They know that without safe cities and towns, America will lose its greatness. Our cherished freedoms and sacred liberties will be diminished, along with our opportunities for economic prosperity and our basic pursuit of happiness.
Our children and their children will live vastly different lives if we fail to guarantee a future free of turmoil.
Islamic extremists, both here and abroad, have one purpose: To destroy America and halt the spread of democracy and religious tolerance around the globe.
They'd like to be plotting in our streets right now. They'd like to be sowing murder and mayhem with suicide bombers and hostage-takings, and spreading fear in the heartland and everywhere else. They'd like to be wearing us down and bringing our nation to its knees.
Since the devastating terror attacks of Sept. 11, 2001, one American leader has maintained an unbending resolve to protect our homeland and interest against Islamic savages and those foreign governments appeasing them.
That leader is President Bush.
While out-of-touch U.S. politicians and world leaders have attacked President Bush's tactics, they can't question his steely commitment to keep America safe.
In the ashes of ground zero, where nearly 3,000 innocent Americans perished, President Bush vowed to find the perpetrators, in domestic cells and distant lands, and bring them to justice. He said he will do all that is humanly possible and necessary to make certain that terrorists never strike again on U.S. soil.
Can anyone deny that President Bush has not delivered? America the terrorists' No. 1 target has recovered from its tragic wounds and rebounded. It remains safe to this day.
What might a lesser leader have done, faced with the daunting task of deciding America's course against withering, partisan attacks from Democrats, media propagandists, disingenuous U.N. officials and disloyal White House operatives selling their souls for profit during a time of war?
A lesser leader might have caved in. President Bush has stood his ground.
In this year's election, the question isn't whether we are safer now than we were four years ago. We already know the answer. Sure we are and that's because of President Bush. The critical question is: Four years from now, will America be safer than it is today?
In our book, Americans have to place their trust in President Bush. He's proven to be as sturdy as a mighty oak when it comes to saying what he means, meaning what he says and acting decisively.
When it comes to the war on terror, President Bush means to keep our military strong and our country secure.
John Kerry, on the other hand, has all the attributes of the shape of water when it comes to telling us what he believes and what he'd do for America. Like incoming and outgoing tides, Kerry is content to go with the flow. In a dangerous world infested with sharks, Kerry would be chum at America's expense.
We in Massachusetts know John Kerry. He got his first taste of politics 32 years ago in the cities and towns of Greater Lowell.
In his 20 years in the U.S. Senate, Kerry, a Navy war hero, hasn't risen above the rank of seaman for his uninspiring legislative record. He's been inconsistent on major issues. First he's for the 1991 Persian Gulf War, then he opposes it. First he's for the war in Iraq, then he's against it. First he's for a strong U.S. defense, then he votes against military weapons programs. First he's for the U.S. Patriot Act, then he opposes it.
Kerry's solution to stop terrorism? He'd go to the U.N. and build a consensus. How naive. France's Jacques Chirac, Germany's Gerhard Schroeder, U.N. Secretary General Kofi Annan and other Iraq oil-for-food scam artists don't want America to succeed. They want us brought down to their level. And more and more, Kerry sounds just like them. In a recent campaign speech, Kerry said America was in the wrong war, in the wrong place, at the wrong time.
No doubt John Kerry sincerely wants to serve his country, but we believe he's the wrong man, in the wrong place, at the wrong time.
Americans should think back three years ago to the smoldering ruins of the World Trade Center. There among the mist lay the images and memories of fallen firefighters, police, a Catholic chaplain and ordinary working citizens moms, dads, sons, daughters.
President Bush, through heartfelt tears, told us never to forget the twisted carnage and the massacre of the innocents. Yet some of us are forgetting.
President Bush told us the attacks must never happen again. Yet some of us are wavering because of the brave sacrifice of soldiers that our nation's security demands.
Well, President Bush hasn't forgotten. Nor has he lost the courage and conviction to do what is right for America.
We know if there is one thing the enemy fears above all else, it is that George Bush's iron will is stronger than his iron won't.
The Sun proudly endorses the
re-election of President George W. Bush.
Iconoclast publisher's opinions are his own
September 29, 2004
The publishers of the self proclaimed President's hometown newspaper, The Lone Star Iconoclast, endorsed Senator John Kerry for President in a front page article today. Publisher, and Clifton resident, W. Leon Smith says the Massachusetts senator will "Restore American dignity" and "Urges Texans not to rate the candidate by his hometown or even his political party, but instead by where he intends to take the country."
The Lone Star Iconoclast was established and actually published in Clifton, Texas after President Bush and his family moved to their Crawford area ranch.
The McGregor Mirror and Crawford Sun continues to cover news events in Crawford as well as neighboring McGregor and has done so for many decades.
OPINION OF THE WEBMASTER...Editorial
George W. Bush is Right for America
Crawford-Texas.org Presidential Endorsement
Who would have ever thought that it would be necessary for any business remotely related to Crawford, Texas to feel the need to endorse President George W. Bush for reelection? After today's endorsement by the Iconoclast's publishers I personally feel the need to state to America just a few of the reasons that I and many other Central Texans fully support President Bush.
There have been many great challenges that our country has had to face during President Bush's term in the White House. Our economy was actually faltering when the President took office and the tragic events of September 11th struck all the world by surprise. Through it all, our President has stood fast and did not waver in his commitment to lead our country into a safer and more secure nation.
* Our economy has grown under President Bush's leadership. Job creation is picking up. More Americans own their own homes, manufacturing is growing and the stock market has recovered after 9/11. Many small businesses have popped up across the country and in Crawford, where the buildings were literally boarded up when he moved here in 1999.
*The 2003 tax bill quadrupled the amount that small business can expense for new capitol investments and created a great surge of spending and provided small business owners an average $3000 tax cut. The President's 2005 budget proposes more than twenty-billion dollars in small business and equity programs and his proposed Association Healthcare Plan would lower healthcare costs.
* Let us not forget the three tax relief bills that the President proposed and signed into law that helped millions of families with children and business and greatly helped our economy. The President now wants to make tax relief permanent.
*The President is implementing a comprehensive national energy plan to upgrade the Nation's electrical grid, promote energy efficiency, increase domestic energy production and provide conservation efforts, all while protecting the environment.
*He is committed to making health care affordable to all Americans.
*President Bush is committed to tort reform which will eventually help doctors continue to practice and without the burden of high insurance costs. Liberal Democrat trial lawyer John Edwards made his millions in the courtroom. Does anyone believe he or Kerry would ever be for tort reform? Some of their top financial supporters are trial lawyers...what will they expect in return? (Click this link for more about Edwards, the Kerry campaign and their association with Trial Lawyers:
http://www.thetruthabouttriallawyers.com/
)
* No Child Left Behind created accountability in Texas schools and needs to continue across the Nation. President Bush and Laura understand the importance of reading and the 2005 budget request includes a substantial increase for the Reading First program.
* One million more higher education students from low-income families have benefited from Pell Grants since President Bush took office.
*On November 3, 2003, President Bush signed the Partial Birth Abortion Ban of 2003
* He supports faith and community based charities receiving federal funds.
*President Bush is for a fully voluntary military is firmly against reinstating the draft. He supports rebuilding our military including supplying our service people with the best equipment. He has increased military pay by more than 21% over the past three years, expanded use of targeted pay and bonuses and improved housing for military personnel.
We need a leader that we can trust to be strong on the issues that we care about, not change his mind as often as the direction of the wind.
No President wants to send men into battle. It has to be one of the most heart wrenching decisions to ever have to make. If leaders from five countries came to you with evidence of weapons of mass destruction in Iraq, what would you have done if you were President? Sit on your hands or take action before we we're hit hard again? Instead of just seeing the negative events on the nightly news, remember that there are children in schools and women are learning to read and being empowered in Afghanistan and Iraq. I stand with President Bush and our troops and believe that all of the negative talk from the Left can only be hurting our troops and the way the rest of the world sees us and our country.
80% of registered voters in Crawford marked their ballot for George W. Bush in 2000. I suspect that that number will grow in November.
As for that rag of a newspaper. It's not worthy for the of the bottom of a bird cage.
No Moore in Crawford
Scared away by Pro-Bush activists flocking to movie's gate
July 29, 2004
Michael Moore was a no show at the screening of his film Fahrenheit 9/11 in Crawford, Texas Wednesday evening, Rather choosing to stay in more comfortable territory at the Democratic National Convention in Boston. Moore stated to the Associated Press Wednesday morning that he was afraid that his showing up would make it "all about me... me vs. Bush."
Peace House spokespeople sited that Moore was afraid that violence might be possible with all the Pro-Bush activists coming to Crawford to protest the film. About 2000 people attended the screening in the parking lot beside the High School football field and about half were there to support President Bush. Supporters came from all over Texas. Large groups came from Austin that were
particularly helpful. Many Bush supporters did not want to see the film and instead stayed at the entrance along the road with their Bush signs.
From this writer's seat on the front row (at the invitation of Peace House spokesman Paul McDaniel) I witnessed supporters of Michael Moore's twisted facts and outright propaganda yelling out obscenities directed towards President Bush every time he was shown on screen. The really sad thing is that many of the Moore supporters brought their young children, and one particular woman sitting next to our group with her two kids would tell them what a terrible man our President is and was actually teaching her children that he is a "liar" and "thief" and much, much more. For people that say that they want peace, they definately did not convey that attitude during the showing.
Micheal Moore in Crawford Wednesday
No white sheets necessary
Crawford July 26, 2004
According to Paul McDaniel at the Crawford Peace House, in a phone call this afternoon, Michael Moore will indeed be in Crawford for a special screening of his antiwar documentary film Fahrenheit 9/11 along with his co-producer Jeff Gibbs and it won't have to be seen on a sheet hung from the side of a barn either! A business owner from Austin will be lending the Crawford Peace House "top notch" movie equipment. The Austin donors will shortly be opening a new theater in Bellmead, on the outskirts of Waco, dubbed the Alamo Draft House that includes the option of having dinner and a beer instead of the usual popcorn with a not-for-first-run film.
According to Paul McDaniel "All are welcome," especially those who intend to vote for President Bush in November. The group is suggesting an $8.00 donation to enter. Skip Landos, founder of Friends of Peace said recently that the screening would be a fundraiser for the Peace House, but that GOP members are invited to come for free.
"We don't want to play it just for people who already know what it says and already agree with it," Landos told the Waco Tribune Herald last week. "We want to play it for people who don't read the progressive news wire and that sort of thing...and encourage some sort of dialogue...We want to invite anyone who shows a Republican (voter) registration card to enter for free."
Michael Moore himself has invited President Bush to the Crawford showing in an open letter addressed to the President on the home page of his website. In it Moore says, "I write to invite you to the inaugural showing of "Fahrenheit 9/11" in Crawford ... Wednesday, July 28 at dusk. I am very much looking forward to this Crawford premiere because, after all, so much of the film is set there in the months leading up to 9/11."
The talk around the Crawford coffee pots tends to be against Mr. Moore and his film coming to this peaceful community since the film is basically a full length, liberal left wing spurting of the utmost Bush bashing propaganda. Exactly what the Kerry/Edwards campaign attempted to curtail leading into the Democratic National Convention this week.
The screening will be held in the parking lot beside the Crawford football field Wednesday evening at dusk. Mr. McDaniel suggested to get there early due to the traffic congestion expected with an estimated crowd of 2000. There will be music and entertainment before the 8:30-9:00 start of the show. Bring your lawn chairs or a blanket and be sure to stay after the movie for an interaction with Michael Moore. McDaniel says that Moore will speak and take questions from the crowd.
NOTE TO ALL REPUBLICANS (I guess you could call this
my
open letter): Republicans who stand by President Bush are urged to attend and show support for the President and our troops in harms way. Wear your BUSH T-shirts or buttons and join me Wednesday evening for spirited discussion and interaction with those who are against our fine neighbor! If you do not have a T-shirt or button and will attend, I will be outside the event early and will GIVE you a NO MOORE T-shirt or button, while they last, compliments of my company
www.WesternWhiteHouseGifts.com
. If you live in Crawford or Waco, you are welcome to e-mail
[email protected]
to arrange to pick up a t-shirt in exchange a donation of school supplies ($10 value) to be donated to the RNC community service drive for needy school age children. This is not intended to cause a disterbance, but to engage in open dialog and to show the world that there are those who do not agree with Moore. If we as Republicans do not see the film, how can we possible counter act it? Wouldn't it be wonderful if the BUSH supporters out numbered the liberals!? Bring your voter regestration card...It should be an interesting evening!
Valerie
7-28-2004 UPDATE:
FIFTY-NINE DECEITS IN FAHRENHEIT 911
This website was passed along to me and points out the 59 deceits found so far in Michael Moore's movie!
SEE THE MOVIE THEN HEAR THE TRUTH!
Here is a
Four-page PDF
summary of the article, which you may reproduce freely and distribute to others.
Counter protesters Marine PFC. Matthew Nutson and Lloyd Crawford proudly support US troops in Iraq
Click here to view the full 46 pages of "Fifty-nine Deceits in Fahrenheit 911" written by David Kopel of the Independence Institute
Chili Cook Off attendance slashed by anti-war protest
Ralph Nader speaks at Crawford rally March 20, 2002
There were only eighteen entries in Saturday's Chili Cook-Off sponsored by St. Paul Lutheran Church, down from thirty-five entries in last years event. The city wide garage sale also held at Tonkawa Park was not as successful as organizers had expected. Sales in local businesses were slower than those of normal weekends. Entrants, locals and tourists were scared away by the prospect of encountering the over 700 strong sea of protesters just on the other side of the small pond at the park who attended two anti-war and anti George W. Bush rallies held on the one year anniversary of the beginning of the war in Iraq.
The protesters were hard to miss once the two major roads into Crawford were closed off and their parade of more that 500 walked their route from the park down FM 185, through downtown and back to the park past the Community Center. Signs read slogans such as those touted a Houston group, "Help stop war...Impeach Bush" and "Crawford, send your village idiot back home on November 3, 2004." (Note...the election date on the sign was incorrect, it is actually November 2, 2004)
Counter protesters made a stand along the road as well. Marine PFC. Matthew Nutson from just up the road in Speegleville thought it was important to come out and spent part of his 10-day leave from his duties in turbulent Haiti to show support for his fellow US troops fighting in Iraq. He proudly held an American flag next to a sign that read "Support our Troops." Standing at his side was Lorena veteran Lloyd Crawford who said "It was important to show troops that not everyone felt as the anti-war protesters do."
When independent Presidential candidate Ralph Nader took the stage at the park, the tone did not change. Nader slammed President Bush and his war policies as "corporate greed and deception." During Nader's hour long speech a lone heckler could be heard shouting "Don't run." Nader's Texas campaign team was on hand gathering signatures to try to place his name on the November ballot.
President Bush was not in town this weekend. He spent the day in Orlando, Florida at a rally of his own with a packed crowd at the Orange County Convention Center. The President was introduced by his wife Laura and when he took the stage he remarked, "The crowd is always a little bigger when Laura comes along. America loves her almost as much as I love her. I think she deserves four more years as the First Lady" which drew thunderous applause.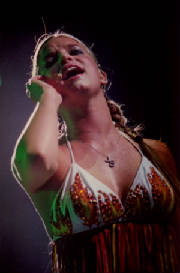 Jessica Simpson in concert
Oops! Jessica Simpson does it again! March 16, 2004
The Washington Post mentioned one of Central Texas' favorite MTV "Newlyweds" stars, Jessica Simpson, who performed at the Ford Theater gala that President Bush attended Sunday night in Washington, DC. Referring to her television role, Bush told the audience, "Jessica Simpson is here with us, which means we've finally introduced reality TV to the Lincoln Theater."
Writes the Post's Richard Leiby: "He meant Ford's Theater, of course, but everyone knows President Lincoln was shot there." "An easy mistake to make," Senate Minority Leader Tom Daschle told the Post reporter at a post-show dinner at the Organization of American States.
Sitting with first lady Laura in the front row, Bush seemed smitten with R&B diva Patti LaBelle, who mouthed a greeting to the prez from the stage that looked like "You got it goin' on!" After the show, Bush kissed LaBelle three times on the cheeks. (Fellow songbirds Jessica Simpson and Michelle Williams earned one presidential peck apiece.)
"Simpson, whose verbal gaffes are also legendary, pulled another one Sunday while visiting the White House, the Post's sources say. The singer was introduced to Interior Secretary Gale Norton and gushed: 'You've done a nice job decorating the White House.' "
Jessica confirmed the story while making a guest appearance on NBC's Tonight Show with Jay Leno Wednesday. She stated that she did indeed meet Ms. Norton who said that she was a 'fan' and asked to take a photo with her while touring the White House. Jessica did compliment her on the good decorating job, but she had "no idea how that got out."
The gala will be televised on ABC around the Fourth of July.
Jessica's Central Texas connection....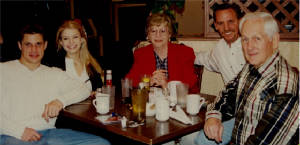 Nick Lachey, Jessica Simpson and family in McGregor
Jessica's mother Tina Simpson is originally from nearby McGregor, where Jess' grandparents and other family still reside. Jessica and her husband and "Newlyweds" costar Nick Lachey visit Central Texas regularly and have featured some of their visits including dining at The Coffee Shop Cafe in McGregor on their MTV reality show.
This is not the first time Jessica has sang for the first family. She and her husband Nick Lachey performed at President Bush's Inauguration at the request of the Bush girls, Barbara and Jenna. When they met the first family, Jess told President Bush where her aunt lived and described the house to him. He told her he knew the house and just might stop by and say 'Hello' sometime.
Jessica also mentioned on Jay Leno's show about she and Nick having breakfast with her grandparents at The Coffee Shop (www.TheCoffeeShop.us) in nearby McGregor that then Governor Bush had stopped in to have lunch while looking at the property in Crawford. She talked about her family prompting her into having her photo taken beside a George W. Bush cutout on display at the restaurant just like the tourists do, despite having had performed for him.
About the only other autographed photo, besides those of the President, you see around Crawford and McGregor is that of Jessica Simpson. Nick Lachey recently released his latest CD "SoulO" and Jessica just re-released her CD "In This Skin" which features additional tracks including "Take My Breath Away" from the movie Top Gun.
Both can be seen in their hit show "Newlyweds" on MTV every Wednesday night at 9 pm Central. An ABC Special is in the works to be shown April 11, 2004.

(Updated March 17, 2004)
Consumer activist and Presidential hopeful Ralph Nader will speek in Crawford Saturday, March 20
City-wide garage sale and chili cook off scheduled for same day March 16, 2004
Several hundred political activists are expected in Crawford Saturday, March 20 including consumer activist and independent Presidential candidate Ralph Nader whom many Democrats blame for splitting the liberal vote in 2000 and handing the Presidential victory to George W. Bush.
The scheduled Crawford rallys are among those which the activists say will be held around the world on the first anniversary of the U.S. bombing and invasion of Iraq. The worldwide protest is called the "Global Day of Action Against War and Military Occupation."
The first peace rally will begin at noon with a meetup, entertainment and speekers scheduled in Tonkawa Park, sponsored by the Dallas Peace Center, North Texas for Justice and Peace, Friends of Peace and Texans for Peace. A parade will begin at 2 PM from Tonkawa Park, to Crawford up FM 185 through downtown on State Highway 317 and back to the park. The parade should be over and roads will be back open by 3:00.
Along with Nader speekers include State Representative Lon Burnam from Ft. Worth, Shannon Sharrock of Military Families Speak Out and Dalia Hashad of the ACLU.
Along with a full day of protesting going on at the park, there will also be the Chamber of Commerce "Garage Sale" from 8 AM till 4PM or untill everything is sold. And the St. Paul Lutheran Church Cemetery Association will hold it's 2nd Annual Chili and Bean Cookoff at the park.
From 5-9 PM the Dallas activist group The Intelligence Community will have it's own anti-war rally in the park with their own set of speekers and entertainment.
There will be Commemorative Peace Rally buttons on sale at Crawford Country Style, a gift shop in downtown Crawford.